HARM REDUCTION PROGRAM - WARSAW
A safe, friendly place to hang out, eat a hot meal, take a bath, do laundry, and use the internet. We regularly offer material assistance.
People who use drugs experience systemic discrimination. Especially homeless users are vulnerable to violence, have nowhere to go to get help or even shelter from the cold. The Drop-in is, for many of our clients, the only safe place where they can take a breather, a break from their daily hardships. In addition to being a safe space, drop-ins are also often PWUD's first contact with support services. People who use drugs have extremely limited access to health care and social help services. The support offered at drop-ins is comprehensive and makes it easy to reach out to institutions and organizations.
We are on duty in places where people who use drugs are gathering (near opioid substitution programs, parks, vacant lots). We conduct needle and syringe exchange, social and crisis interventions, provide knowledge on prevention of infections and reduction of harms related to drug use. Outreach allows us to reach people who do not benefit from our stationary service. We also take care of the safety of local communities – we collect used needles and syringes and intervene in crisis situations.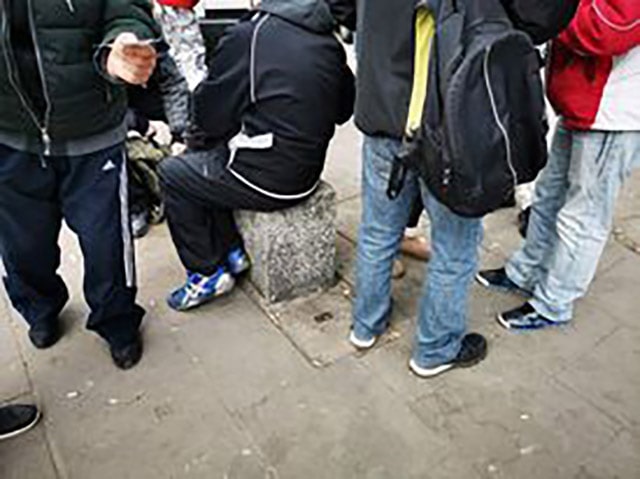 Peer workers are experts in the field of drug use. They know best of all the needs of PWUD and the most effective solutions and strategies. Based on their experience and knowledge, they are able to carry out the projects using tools that are inaccessible to people without experience. Thanks to their contact with the community, they are able to reach out and make contact with people who, for various reasons, do not use help facilities. They are trusted in their community and are able to get their message across. Establishing relationships and maintaining contact with PWUD increases the effectiveness of interventions and the likelihood of them applying for specialist services. Peer work is one of the most effective forms of interventions for working with PWUD. Peer workers are employed in the Harm Reduction Program and are part of the team.
Together with the Foundation for Social Education, we implement a mobile service. We run a needle and syringe exchange program, dispense bandages, condoms. Rapid finger prick tests for HIV, HCV, syphilis are performed in the camper. Psychological counseling, medical consultation and crisis intervention are also available.
Needle and syringe exchange programs are one of the primary harm reduction interventions. They aim to reduce the transmission of HIV and other blood-borne viruses as a result of sharing injection equipment. Many also work to reduce other harms associated with injecting drug use by providing advice on safer injection practices. We deliver the program stationary and at outreach.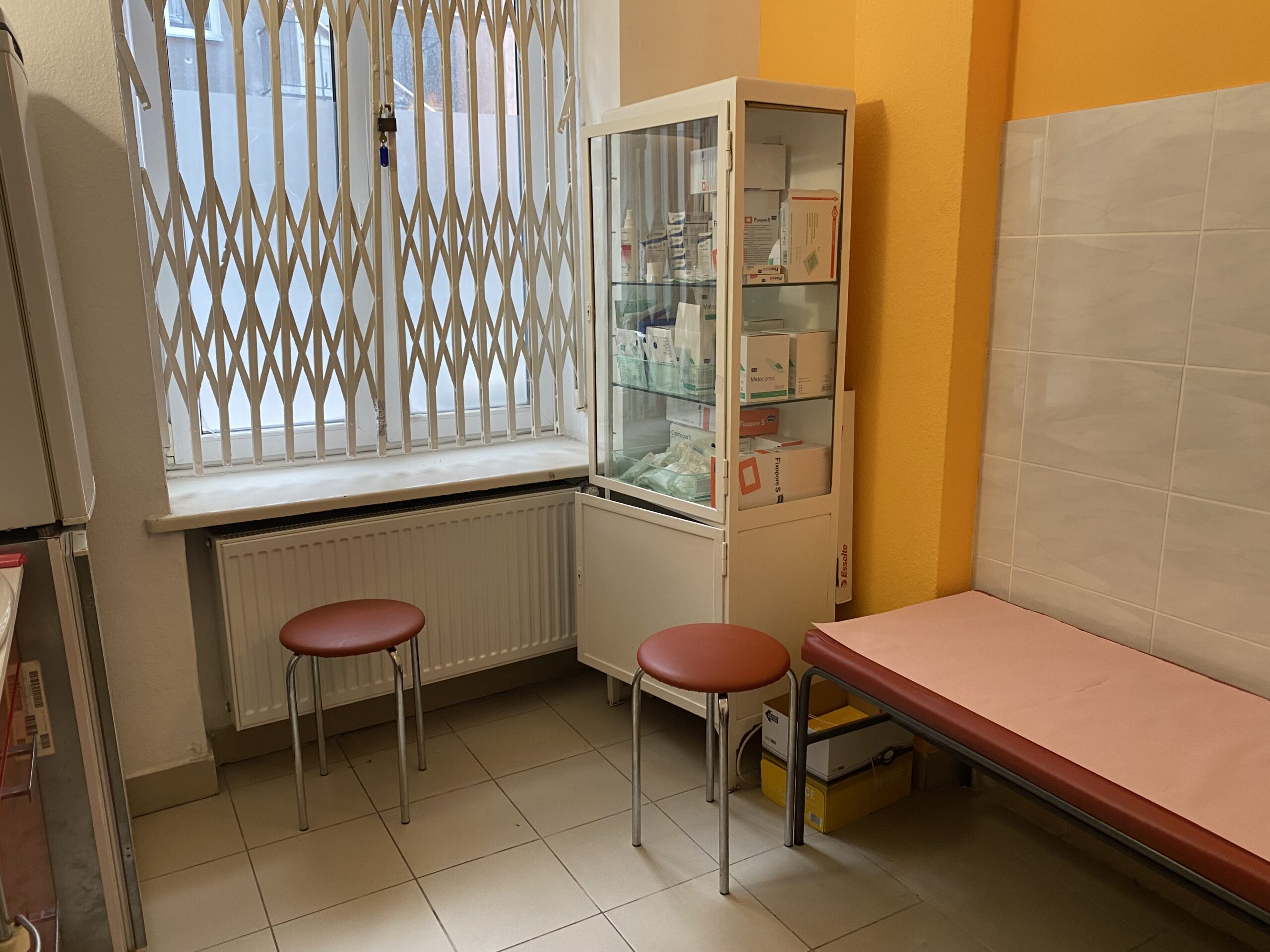 Harm reduction aims to protect the health of people who use drugs. We do this by educating about safer ways of taking drugs, about HIV/HCV and sexually transmitted diseases prevention. We offer individual consultations and conduct educational workshops for clients of our service. We help to arrange medical appointments, admissions to hospitals, detoxification facilities, addiction treatment centers or opioid substitution treatment programs. Drop-in nurse is on duty – clients can get help when they need it, for example to treat a wound. We refer clients to specific locations if they do not know where to go for medical assistance. We distribute dressing materials, disinfectants, and personal protective equipment.
Opioid substitution therapy is the pharmacological treatment of people with opioid addiction by giving them a prescription substance with properties and effects similar to those of the drug. The substitute prevents withdrawal symptoms from occurring and reduces psychological cravings. Treatment combined with psychosocial support and social provision is the most effective treatment for opioid dependence, recommended by the World Health Organization, UN agencies and the European Commission.
Opioid Substitution Treatment programs in Poland are very often limited to only dispensing a substitute, without offering patients support in other areas of their lives. Social exclusion, stigmatization and discrimination of PWUD, including those in treatment, are pervasive. Lack of social and professional reintegration activities, lack of psychosocial support results in patients functioning as before and feeling that deeper change is not possible. The project we run is a response to their needs. We offer vocational counseling, our specialist accompanies clients every step of the way to re-enter the job market. Exclusion also means lack of access to culture. We go to theaters, cinemas. We conduct music and relaxation workshops. Getting to know alternative ways of spending time has a direct influence on the well-being and motivation of our clients.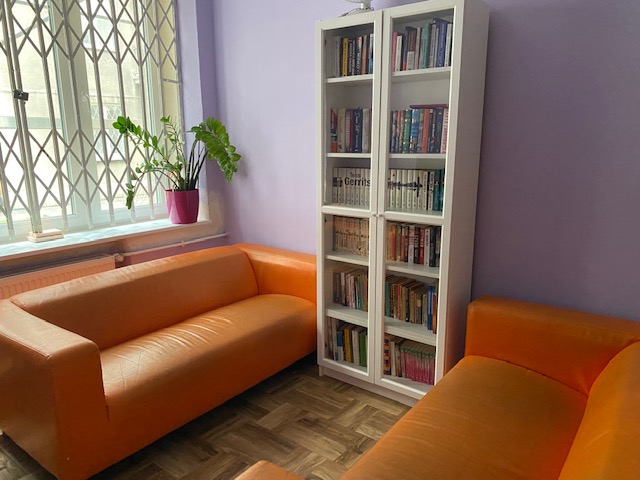 Most of the people that benefit from our service have experienced complex trauma and violence. They need psychosocial support and help in crisis situations. The psychological support must be combined with an impact on the environment in which they live. Based on a motivational interviewing we develop together with our clients a plan to make changes in their functioning in order to protect their health and increase their psychological well-being. Crisis interventions are an integral part of our work.
We help to get things done that are critical to the functioning of our clients. We help to take a photo for ID, make an ID card, get insurance, get a pension, apply for social housing. We also provide social interventions.
Many people have ongoing cases in the area of criminal, family or administrative law. Lawyer in the Program deals with specific cases, provide information about the provisions of a given law, search for various possibilities of solving problems and support clients in their implementation.
Many of the Program's clients are incarcerated. Maintaining contact with them is an important element of our work. From penitentiary institutions we often receive letters from people we do not know, who want to get in touch with us. These are often people who have no one to turn to for support. As part of our activities in detention centers and prisons we conduct individual support and educational activities. We also prepare packages for the inmates.
Professional activation is carried out through individual consultations. The aim is to help clients to recognize their predispositions and possibilities and to increase their awareness of their limitations. The work has a direct impact on the clients' self-esteem and self-determination. The support of the counsellor includes searching for offers, courses, assistance in reaching employers.